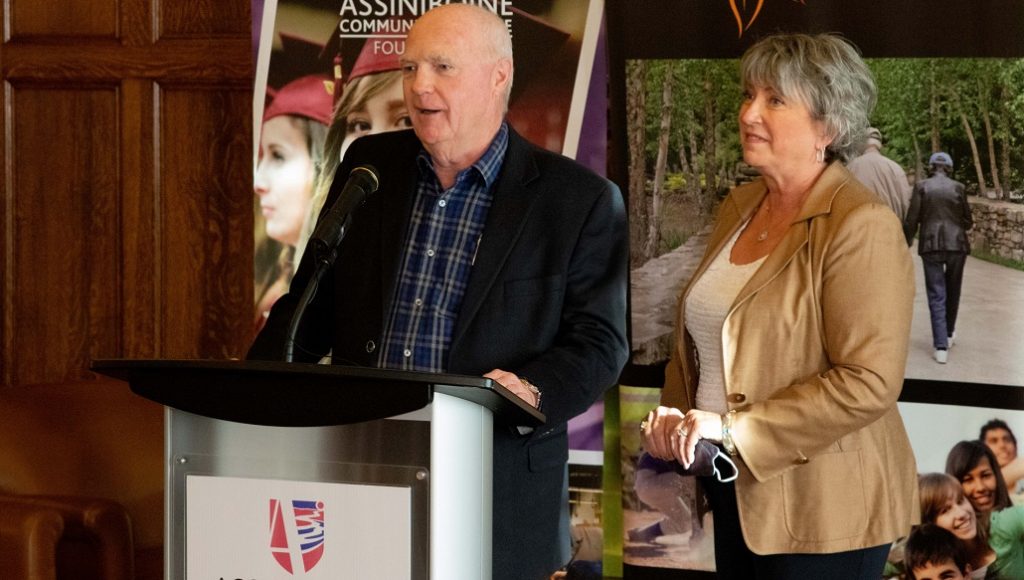 Assiniboine's Prairie Innovation Centre for Sustainable Agriculture is welcoming a $500,000 donation from local community and business leaders, Gord and Diane Peters and the Brandon Area Community Foundation (BACF).
The Peters' are no strangers to Westman and are well-known for supporting various community projects. In 2009, they set up a partnership with the Brandon Area Community Foundation to facilitate long-term giving.
Gord is a co-founder of Cando Rail & Terminals, headquartered in Brandon.
"Many of the staff we hired at Cando are Assiniboine alumni so we fully understand the value of the college to employers and the community as a whole. In fact, Diane is a proud alumnus, having taken nursing there," he said.
"Gord and I have long believed in giving back to the community and this project will not only be good for Brandon, but all of Westman. It will serve the ag industry well but also provide a great number of training opportunities for the area's youth," said Diane.
The Centre is Assiniboine's vision for the future of agriculture in Manitoba, and will address industry and economic needs in this important sector.
"The Prairie Innovation Centre is the cornerstone of the future of agriculture-related training at the college," said Derrick Turner, Director, Advancement and External Relations at Assiniboine. "This remarkable support from two industry and community institutions, the Peters' and BACF, both moves us toward our fundraising goal and reinforces the project as an important and necessary addition to the community and industry landscape."
In Manitoba, it's projected that one in five jobs in agriculture will go unfilled by 2029. The Prairie Innovation Centre is Assiniboine's made-in-Manitoba solution and aims to expand seats in agriculture-related programming from 300 to more than 800.
"Here in Manitoba, we live in the Canadian food bank, and it is initiatives like the Prairie Innovation Centre that will ensure the sustainability of the agricultural industry and a bright future for the next generation of producers and agricultural business," said Dan Robertson, Chair of the BACF.
"A strong agricultural industry in Manitoba means strong communities, and the Brandon Area Community Foundation is focused on helping to create strong communities. We are pleased to join with great business and agricultural leaders to make a significant financial contribution to the Prairie Innovation Centre for the benefit of future students, the agricultural industry and the communities of Manitoba."
"We are excited to contribute alongside other area businesses and individuals to make this transformational project a reality," added Gord.
This one-of-a-kind Canadian college project, to be located on Assiniboine's historic North Hill campus, will bring together collaborative learning spaces, applied research labs and multipurpose spaces that will serve both industry and the college community.