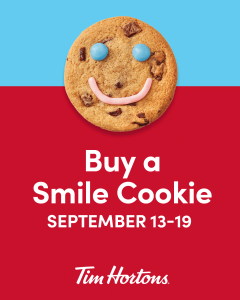 Tim Hortons® Smile Cookie Campaign is Back September 13 to 19th, Supporting the Brandon Area Community Foundation
From September 13 to September 19, the full $1 from every Smile Cookie sold in Brandon will support the Brandon Area Community Foundation. Celebrating its 25th anniversary, the Smile Cookie campaign has raised more than $60 million for charities, hospitals, and community programs across the country – with a record-breaking $11 million in 2020.
Back again for its 25th year, Tim Hortons Smile Cookie week will support charities in communities across the country, including the Brandon Area Community Foundation – one of hundreds of Canadian charities, hospitals and community programs supported through the annual campaign.
For one week, from September 13 – 19, restaurant owners will donate the full $1 from every freshly baked chocolate chunk Smile Cookie purchased to support charities in their community. Guests can complete a form to place pre-orders for Smile Cookies through their restaurant in Brandon.  Click here to download the 2021 Tim Hortons Smile Cookie pre–order form.
This year, Tim Hortons restaurants in Brandon are supporting the Brandon Area Community Foundation.
Smile Cookie Campaign Facts
In 2020, the Smile Cookie campaign raised a record $11 million across Canada
For over 25 years, Tim Hortons restaurant owners and guests have been spreading smiles. The Smile Cookie campaign began in 1996 to help raise funds for the Hamilton Children's Hospital in Ontario
Nationally, Tim Hortons restaurant owners support over 550 local charities, hospitals and community programs through the Smile Cookie campaign
Join the Smile Cookie Conversation
About the Brandon Area Community Foundation
The Brandon Area Community Foundation was established by an Act of Incorporation in 1965 and is currently a member of the Community Foundations of Canada, the national network for community foundations in Canada.
The Foundation invests the contributions it receives in a perpetual endowment fund and uses the income earned to make grants to a wide range of charitable groups – grants that benefit our local communities in Southwestern Manitoba.
Anyone can become involved in helping to build the assets of the Foundation – individuals, families, corporations and groups. Your gift to the Foundation will benefit the community now and into the future.
For more information or interview requests, please contact:
Laura Kempthorne
Executive Director
W: 204-571-0529  M: 204-729-1012
About TIM HORTONS®
In 1964, the first Tim Hortons® restaurant in Hamilton, Ontario opened its doors and Canadians have been ordering Tim Hortons iconic Original Blend coffee, Double-Double ™ coffees, Donuts and Timbits® in the years since. Over the last 55 years, Tim Hortons has captured the hearts and taste buds of Canadians. Tim Hortons is Canada's largest restaurant chain operating in the quick service industry serving over 5 million cups of coffee every day with 80% of Canadians visiting one of nearly 4,000 Tim Hortons in Canada at least once a month. More than a coffee and bake shop, Tim Hortons is part of the Canadian fabric and guests can enjoy hot and cold specialty beverages – including lattes, cappuccinos and espressos, teas and our famous Iced Capps™ – alongside delicious breakfast, sandwiches, wraps, soups and more. Tim Hortons has more than 4,800 restaurants in Canada, the United States and around the world. For more information on Tim Hortons visit TimHortons.ca.