The Brandon and Area Community Foundation is excited to announce a new partnership with The United Way of Brandon & District in funding Youth in Philanthropy over the next three years. Participating schools are Crocus Plains Regional Secondary School, Vincent Massey Highschool, Ecole Secondaire Neelin High School and Elton Collegiate.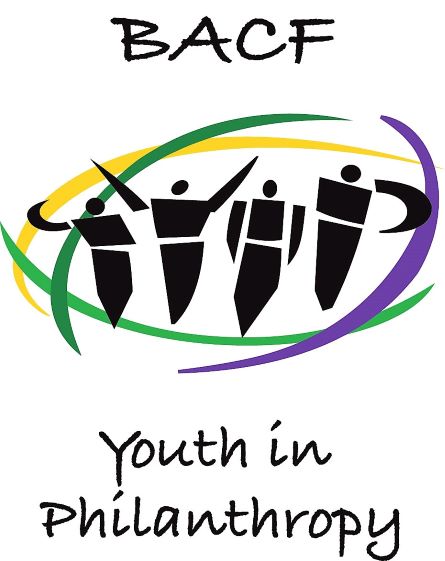 Youth in Philanthropy (YIP) is for young people who envision a safe, strong community where everyone from any culture and background can work together. YIP helps everyone in our community and you can be a part of it.
About YIP
YIP is designed to introduce motivated young people to philanthropy and local community development. The program will give you hands-on experience working as a team and with local charitable organizations. It's a one-of-a-kind experience.
How YIP Works
In September, schools/organizations form YIP committees. Each committee receives $2.500 from the BACF foundation to distribute to charities of their choice. As a committee you decide on your areas of focus, goals and criteria. You will research charities that meet your criteria and learn more about what they do by visiting them and interviewing people who work there.
Each committee member helps to decide which charities will receive grants, how much money each will receive, and how it will be spent. You will then submit your grant recommendations to The Winnipeg BACF Foundation's Board for final approval. In May, the program finishes up with a celebration for YIP participants, staff advisors and grant recipients.
Why Join YIP?
Through YIP you'll gain skills that will last a lifetime and learn about some amazing people and organizations doing powerful work to make our community better.
Resources:
Click here to view our new Youth in Philanthropy brochure.
Program Highlights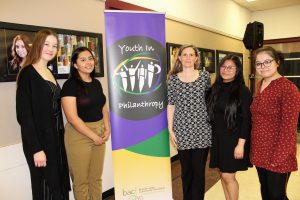 Crocus Plains Regional Secondary High School
ORGANIZATION
AMOUNT
PROJECT
Brandon Bear Clan



$400.00
Practical needs, food, equipment and supplies.

BRHC Foundation


$500.00
Purchase infusion pumps.


John Howard's Society



$400.00
Supplies for the "Everyone Eats" program.


Samaritan House
Ministries
$500.00
Purchase food for the food bank and other basic needs for clients.


Westman Immigrant Services


$300.00
Assist with children's reading program.


YWCA

$400.00
Purchase food for the food bank and other basic needs for clients.


Total

$2,500.00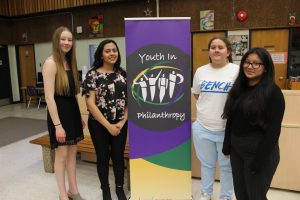 École secondaire Neelin High School
| ORGANIZATION | AMOUNT | PROJECT |
| --- | --- | --- |
| Brandon's Food for Thought | $500.00 | To purchase food for the breakfast program in the Brandon School Division. |
| BRHC Foundation, Camp Bridges | $500.00 | To purchase supplies for camp. |
| BRHC Foundation, Murray House | $500.00 | Provide supplies for the Murray House. |
| Helping Hands Centre of Brandon | $500.00 | Provide bottled water & food for meal increase of Covid19. |
| Project Echo-Feral Cat Consulting | $500.00 | Help pay for Trap-Neuter-Return projects.  |
| Total | $2,500.00 | |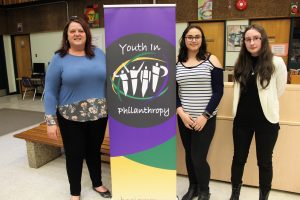 Elton Collegiate
| ORGANIZATION | AMOUNT | PROJECT |
| --- | --- | --- |
| Addictions Foundation of MB | $200.00 | Purchase karaoke machine for in-house patients. |
| Alzheimer's Society | $400.00 | Improve technology due to COVID-19, online meetings, increase outreach. |
| Assiniboine Food Forest Inc. | $250.00 | Buy flower seedlings and signage at site. |
| Forrest United Community Church | $500.00 | Purchase food for the food bank and other basic needs for clients. |
| Rapid City Library | $200.00 | Help to start a teen book club. |
| Rapid City Museum | $250.00 | Help cover costs of the museum's renovations. |
| Waves of Hope | $200.00 | Purchase paddle covers to protect the paddles. |
| Women's Resource Centre | $500.00 | Provide counselling services during Covid19. |
| Total | $2,500.00 | |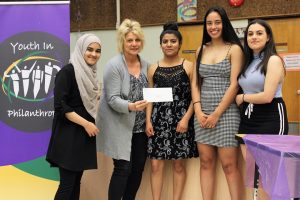 Vincent Massey High School
| ORGANIZATION | AMOUNT | PROJECT |
| --- | --- | --- |
| Assiniboine Food Forrest | $312.50 | Buy plants and garden tools for new "permaculture garden". |
| Big Brothers & Sisters of Brandon | $312.50 | Program to help prepare students (grade 9-11) after graduation. |
| BRHC Foundation | $312.50 | Purchase infusion pumps. |
| Brandon's Food for Thought | $312.50 | Purchase food for the breakfast program in the Brandon School Division. |
| Helping Hands Centre of Brandon | $312.50 | Purchase "take out" containers needed due to Covid-19 restrictions. |
| Samaritan House Ministries | $312.50 | Purchase food for the food bank and other basic needs for clients. |
| Westman Immigrant Services | $312.50 | Assist with children's reading program. |
| Women's Resource Centre | $312.50 | Provide food for breakfast program and buy cleaning supplies. |
| Total | $2,500.00 | |
For more information on the YIP program or how you can help to keep this initiative viable, please contact the BACF office at 204-571-0529 or e-mail laurak@bacf.ca